---
Cold Rush
More than 1368 mountaineers have climbed atop the Mt. Everest in the last 51 years
By A CORRESPONDENT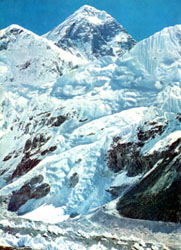 Mount Everest : Unfazed attraction
For along period of time, Nepalese mountains have retained monopoly over international expeditions. Mt. Everest has the almost exclusive privilege over other mountains for last many decades.
Despite the opening up of the Everest expedition from the Tibetan side, the situation has not changed much and climbing mountains from Nepalese side are expensive than that from Chinese side. One has to pay US$ 25,000 to climb Mt. Everest for a single person. If the group is of about seven, the price goes up to US$ 70,000. Each expedition group has to spend up to US$ 5,000 for liaison officer.
In the north Side of Tibetan Autonomous Region, the price for the expedition is US$ 2,500 for an individual. "If we continue to tag such a huge sum of money in the mountain, mountaineers will rush to China and Pakistan," said Anga Tshiring Sherpa, president of Nepal Mountaineering Association. "The government has to cut the present tariff by half."
Official records, however, show that the situation is not as bad as projected by mountaineers. According to Purna Bhakta Tandukar, senior official at the Mountaineering Section at the Ministry of Tourism, Culture and Civil Aviation, 112 teams had come for mountaineering in 2001; 134 in 2002; 152 in 2003 and 55 in the spring season of 2004. Likewise, the number of teams coming for Everest ascent in 2001 was 13; in 2002 it was 14; and in 2003 it rose to 24. "In the spring season of the year 2004, 13 teams have already come. Some more will definitely come in autumn season as well. So, we can safely say that there has been no decrease in mountain tourism," said Tandukar.
According to a study conducted by Dr. Harka Gurung, between 1981 to 1990 more than Rs 38 million were collected as royalty. Between 1991 to 2000, the total royalty jumped to more than Rs 670 million.
"In the mountaineering sector, more than 25,000 people are employed as porters, guides and other professionals in Everest and other areas alone," said Sherpa.
In the last 51 years, different climbers setting various records climbed Mt. Everest more than 1,400 times. From blind to disabled and youngest to oldest, people of different walks of life climbed the world's highest peak. This season, Pemba Dorji Sherpa set a world record by climbing the Everest in just over 8 hours. Likewise, Appa Sherpa made it to the Everest summit for the record 14 times. And Nawang Sherpa climbed it with an artificial leg to become the first Nepalese disabled to do so.
Mountaineering remains a major attraction in Nepal and it needs to be sustained at any cost. At a time when the country's tourism sector has been passing through a very critical phase, mountaineering should be used to attract more tourists.
Thanks to the efforts of government, non-governmental organizations and mountaineering agencies, Nepal has made tremendous efforts to clean up the pollution. "The restriction put on the mountaineering team has helped to reduce pollution level but Nepal needs to take more drastic steps," said a mountaineer.
At a time when other countries are trying to lure the mountaineers offering cheap and reliable package, Nepal also needs to look at how other countries are doing.
One of the advantages of Nepal is that it has 8 peaks out of 14 peaks in the world that are above 8,000 meters in altitude. As such, the attraction of Nepal as a major mountaineering destination in the world remains unchallenged.