Nepalphoto.com News
Handicapped Nepali Sherpa climbs atop Everest
KOL Report
KATHMANDU, May 23 - Nawang Sherpa has set a new record of becoming the first handicapped Nepali mountaineer to climb atop Mount Everest on May 16.
With this Nawang Sherpa has set an example that even handicapped can perform the courageous deeds, official media said.
Handicapped mountaineer Sherpa 33 from Solukhumbu Nepal reached atop the Everest with one leg and mesmerized many of people.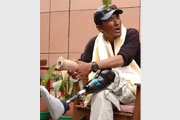 ---
Speed ascent on Mt. Everest - Pemba Dorje Sherpa smashes record
KOL report
KATHMANDU, May 21 - Pemba Dorje Sherpa, 27 of Gaurishankar-1 Dolkha has climbed to the summit of Mt. Everest in 8 hours and 10minutes, setting a new world record of fastest climbing.
Official reports said, he completed the distance from Everest Base Camp to the summit in 8 hours and 10 minutes, by starting at 6 pm on 20th May 2004 and reaching the summit at 02.10 am (NST) on 21st May 2004.
The previous world record was 10 hours 56 minutes and 46 seconds set by Lhakpa Gelu Sherpa on 25th May 2003. (dds)
---
Lakpa climbs Everest for the fourth time

Lakpa Sherpa, a Nepali woman, reached the summit of Everest for the fourth time on Wednesday morning and set a new record for the most number of ascents by a woman, reports said Friday.
According to reports, Sherpa began her final ascent around 7 a.m. on
Wednesday along with six other climbers. She was part of a Romanian
expedition. nepalnews.com pd May 21 04
---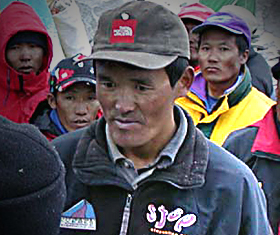 Lhakpa Gelu shatters Everest speed record
20:36 p.m. EDT May 25, 2003
A report just in from base camp says Lhakpa Gelu has completed his Everest speed record in a unofficial time of 10 hours and 12 min, beating the record Pemba Dorjie set just days ago (12 hrs 45 min), by more than 2 hours.
This was Lhakpa's second attempt at the Everest ascent record this season. He had made a go for it on the 21st, but poor weather forced him to abort.
From : http://www.mounteverest.net/

---
Rubbish cleared off Everest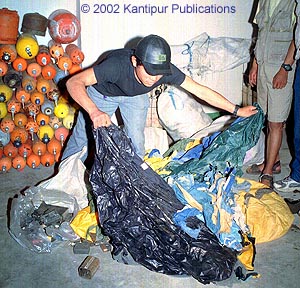 An eight member $400,000 cleaning expedition led by Japan's Ken Noguchi, 29, lifted 2.1 tons of rubbish off Mount Everest this spring, the expedition said Monday.
Two tons of garbage will be flown to Japan and South Korea for exhibition to create awareness on keeping the Himalayan environment in Nepal pristine. The rubbish was left on the mountain by foreign expeditions.
The expedition buried bodies of a Nepali sherpa and an Indian climber killed in previous attempts on the 8848 meters world's highest peak under a rock at the South Col situated at 8000 meters.
Noguchi is the youngest climber to scale the seven tallest summits in seven continents.
The expedition now plans to clear rubbish off Mount Manaslu, another 8000 meter high peak, and
against on Everest. Some members of the team climbed the 8501 meters Lhotse, the world's fourth tallest peak, during the clean-up effort.
Lhotse is a sister peak of Everest. nepalnews.com br May27
---
Temba sets out to become youngest Everest climber
By Binaj Gurubacharya
KATHMANDU, April 1 - Courage has no limits and determination has no boundaries ...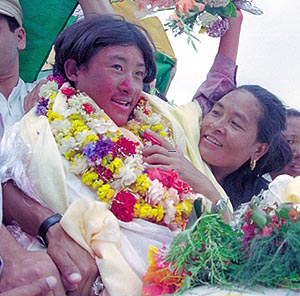 and this particularly holds true for Temba Tsheri who despite losing five fingers to frostbite last year, he is all set to try and become the youngest person to scale Mt. Everest.
Tsheri, an eighth grade student, will be leaving for Tibet on Tuesday in his attempt to climb the 8,850 meters world's highest mountain from its northern side during the last part of May.
This 15-year-old Sherpa boy, who lost five fingers to frostbite when he tried to scale Everest last year and yet undiscouraged by the saga, is making another attempt this Spring to become the youngest climber of the world's highest mountain.
"I am confident I will succeed to accomplish my mission this time," he said. "I feel I am more mature and experienced to tackle the mountain."
Last year, Temba turned back just 50 meters from the summit because of frostbite, exhaustion and deteriorating weather. Despite the disappointment he did became the youngest person to reach the height of 8,800 meters.
His fingers got frostbitten before he attempted the final ascent, when he bared his hands for about 45 minutes to tie his shoes.
Beside the frostbite he faced other problems on the mountain. His sardar decided that Temba and his team should spend extra days on the camps below the South Col and another two days at the South Col, the final jumping point before the climb,
And when the team, which was out of bottled oxygen and food to keep them going at the 8,000 meters high South Col, did decide to make the final push, this sardar decided to return back and abandon the climb.
"Even to this date I don't understand why he made that call," Temba told his friends and teachers of Sidhartha Vanasthali Institute who bid him farewell at a colorful function today.
Fellow students and teachers praised the young Sherpa for his courage and the school has donated Rs. 50,000 towards his expedition.
Tsheri will join a group of foreign climbers he has never met for another try at the summit.
Though he has not met these people whom he might have to depend on keeping himself alive on the mountain, he says that should not be a problem.
At the summit, he hopes to hoist the flags of Nepal and his school.
In preparation for the climb, he had scaled 5,900 meters Yela Peak in the Langtang Valley last month as a practice putting his physical and mental state to test. He said he passed with flying colours.
"It does not matter that I lost those fingers," he said. "I can still function normally and climb without any difficulties or problems."
His parents who have also been associated with trekking and mountaineering are also encouraging their son's attempt. "We are not scared but happy that he is making the bid," said his mother Lakpa Dikki.
Tsheri, who made his unsuccessful bid last year from the southern side of Everest, is trying to break the record set by Nepali climber Shambu Tamang in 1973, when he climbed the peak at the age of 17. Tamang still holds the record.
---
Post Report
KATHMANDU, May 23 – Mother nature finally blessed the climbers on Mt. Everest with a much-awaited break in the weather, enabling at least 37 climbers and their Nepali Sherpa guides to scale the world's highest mountain in the past two days.
Among them, 34 including 15 Sherpas, reached the summit on Wednesday.
According to the Ministry of Culture, Civil Aviation and Tourism, American climbers Paul Giorgio, 36, an investor from Auburn, Massachusetts, and Richard Paul O'Bryan, 47, from Ohio, scaled the summit Wednesday with Grant Maclaren, 32, of Edmonton, Canada, and Tuno Findik, 29, from Ankara, Turkey, assisted by Nima Gombu Sherpa, Lhakpa Temba Sherpa, Nima Dorje Sherpa and Passang Nurbu Sherpa.
Another team led by Guillermo Benegas, 32, from Berkeley, Calif., also reached the summit around the same time. Others in the team included James Sparks, 55, from Lyons, Colorado, and Alexander Allan, 45, from Scotland. They were with Pemba Rinzi Sherpa, Phunden Sherpa, Pemba Gylzen Sherpa and Pemba Rinzi Sherpa.
Not far behind to share their success was a Chilean women's expedition which put five men and women along with four Sherpa guides on the summit. The climbers are Vivianne Cuq Maggi, 38, and Christian Cuq Maggi, 32, Cristina Alenjandra Overem, 30, Patricia Andrea Borquez, 31, and Phillipe Reuter, 34, all from Santiago, Chile. The guides included Kame Sherpa, Chhongba Sherpa, Wangchhu Sherpa and Phura Dorje Sherpa.
Seven members of an Indian army expedition team, escorted by three Sherpa guides, also scaled the world's highest mountain on Wednesday. Amar Prakash, 38; Mohinder Singh, 37; Chanchal Singh, 34; and Neel Chand, 41, along with Pasang Tendi Sherpa, 25, reached the summit at 7:30 a.m. through the southeast ridge route.
About an hour and 35 minutes later, Saurab Singh Shekhawat, 30; Tilbikaram Budhathoki, 36; and Palden Giachho, 32; reached the summit with Lhakpa Nuru Sherpa, 22, and Nga Temba Sherpa, 50.
On Tuesday, a Spanish expedition of three climbers reached the summit by another route: Emilio Lugunilla Alonso, 41-year-old firefighter from Palencia, Padro Rodribuez Anche, 33, a schoolteacher from Avila, and Martin Ramos Garcia, a firefighter from Segovia.
They began the final climb from South Col after midnight.
These were the first climbers this season to scale Everest from the southern side of the mountain. Strong winds and heavy snow on the mountain have recently forced dozens of other climbers to postpone their bid for the summit.
The popular Spring Mountaineering season that began on March 1 ends on May 31, when climbers must return from the mountains before monsoon rains in the region bring heavy snow.
Ministry officials said the remaining half a dozen teams are also expected to push for the summit in the next couple of days.
---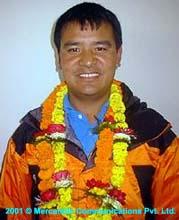 Babu Chiri Sherpa
Kathmandu, April 30: The famous mountaineer Babu Chiri Sherpa, who climbed Mt. Everest ten times, died Sunday nightafter falling into a crevasse near Camp 2, normally two days walk from Everest Base Camp. Camp 2 lies at a height of 6350m and is criss-crossed with crevasses. According to family sources Babu Chiri was taking pictures alone at around 4pm when he went missing. It was only at
12pm that his body was found lying in a 30m deep crevasse. However his body could only be taken out of the crevasse at 9am Monday morning.
Babu Chiri holds the record for the fastest ascent of Mt Everest-16 hrs 56 minutes-and has also stayed on the top for 21 hrs. Among his ten ascents up the world's highest mountain he has twice done it from the Tibetan side.
Babu's manager said the body could not be brought to the capital today due to bad weather conditions in the region. The body will be brought here by tomorrow morning and placed in the Sherpa Gompa in Baudha for the public to offer their last respects to the great mountaineer.
The father of six daughters was mentioned in the Guinness Book of World Records for his exploits of the 8848 metres world's tallest peak. In 1995 he also climbed Everest twice in two weeks.
Nepalnews.com/at/br/rh
---
Body of Babu Chiri Sherpa retrieved
Kathmandu, April 30: The body of famed mountain climber Babu Chiri Sherpa was retrieved Monday from the second camp site on Mount Everest Monday for evacuation by helicopter to the capital possibly Tuesday, the Ministry of Tourism said. Babu Chiri fell 200 meters into a crevasse at his camp site, 6,200 meters high at 4 PM Sunday, the Ministry said.
Colleagues of the Kathmandu metropolitan expedition led by Ramesh Man Dangol and 12 other teams on the 8848 meters world's tallest peak located the accident site eight hours later. Climbers are attempting to bring down Babu's body to base camp Monday by negotiating the treacherous Khumbu Icefall.
Babu Chiri, a father of six daughters hailed from Taksindu village in Solokhumbu district; one of his daughters has died. Besides his exploits on Everest mentioned in the Guiness Book of World Records, Babu climbed the 8586 meters high Kangchenjunga, the worldss third tallest peak, with Russians in 1989. He also scaled the 8000 plus meters Sisha Pangma in Tibet twice and the 8201 meters high Cho Oyu on the Nepal Tibet border six times. The sherpa climbed Everest from the
north and south.

Prime Minister Girija Prasad Koirala condoled the death of Babu Chiri and said,¨ The nation has lost a brave climber.¨ A blind American and another without a hand are climbing the peak from Nepal as Chilean women also attempt to make their first conquest of Everest. nepalnews.com br
---
Everest heroes honoured

Kathmandu, 11 January: Tourism Minister Tarini Datta Chataut made presentations on behalf of Nepal Mountaineering Association (NMA) Thursday, to honour four Nepalis including two women, all of who conquered Mount Everest, the world's tallest peak, in spring 2000.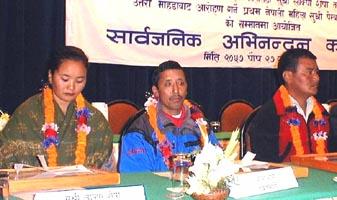 Photo: http://www.nepalnews.com/

Babu Chhiri Sherpa received a commendation letter for climbing the 8848 metre high peak in a record 16 hours 56 minutes from base camp to the summit without the aid of bottled oxygen. He has established a trust of Rs 136121 under his name with the prize money to help worthy causes and has also asked others to contribute.

Appa Sherpa was presented a commendation letter and a cash prize of Rs 75,001 for climbing the mountain for a record 11th time.

Lakpa Sherpa, the second Nepali woman to climb Mount Everest after late Pasang Lhamu, received a cash prize of Rs 75,001 and a commendation letter.

Pemba Doma Sherpa, the first Nepali woman to climb the peak from Tibet, also received a cash prize of Rs 75 001 and a commendation letter.

King Birendra also conferred the four climbers with the Gorkha Dakshin Bahu on his 56th birthday last month. Nepalnews.com/br/at
---
Temba to climb Mt. Everest again
Kathmandu, Dec 24:
Temba Chhiri Sherpa, who abandoned the expedition from 20 meters below the summit of Mt Everest in May this year, announced Saturday that he would try to climb the tallest peak again and become the youngest person to reach the top of the world.
Temba,15, told Gorkhapatra daily on Saturday that he would try once more and become the youngest person to climb Mt Everest, " if I get adequate support for my expedition".
He, however, did not elaborate his plan of climbing the Everest again.
He was 14 when he attempted Sagarmatha to set a new world record. Although he abandoned the expedition from 20 meters below the Everest peak, he still established the world record by reaching the altitude of 8428 meters at the age of 14.
Temba had to abandon his expedition as his fingers were frostbitten.
He later lost his four fingers at a hospital in Kathmandu in order to save his other fingers, doctors said.
Sambhu Tamang has set a world record by climbing Mt Everest at the age of 18. Temba wanted to break this old record and establish a new world record by climbing at the age of 14.
Another teenager Arbin Timilsina also attempted to climb Mt Everest at the youngest age last year. He also abandoned from 40 meters below the summit. nepalnews.com yl
---
Arvin's bid on Everest short by 148 meter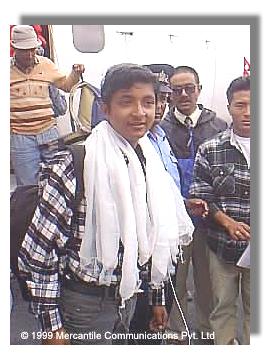 Arbin " Nepali Hero"

-By Ang Chhiring Sherpa

KATHMANDU, May 6 - He was mere 148 meters from his dreams. At 8,700 meters high South Summit, Arvin Timilsina had to give up his bid to be the youngest Everester and return back to lower altitude.

Pain in his eyes forced him to abandon his summit bid on Mt. Everest and return to the lower camp at South Col, the 8,000 meter high jumping off ground for climbers before they make their bid on the summit. So close yet so far. Though he had to return back meters from the summit he reached a height never reached by any his age. That itself is a new record.
The Ministry of Tourism said Arvin confirmed he was in better health and he was heading towards lower camps with members of his expedition. Arvin, the 15-year-old ninth grader from Pokhara was attempting to be the youngest human to set foot on the 8,848 meters high Mt. Everest. With three experienced Sherpa guides - Ang Gyalzen, Phurba, and Ang Mingma - by his side, Arvin set out for the summit from South Col on Tuesday at 10 p.m. After 13 and half hours of uphill trek through the toughest and final portion of the treacherous mountain, at about 11:30 a.m. the next day, the four reached the South Summit but decided to quit the climb and descended to the South Col landing there four hours later.

Our correspondent from Pokhara reports that Arvin's friends and family who were cheering his venture have joined to rejoice his achievement. "Though he did not reach the summit, we still feel he was successful," said his school principal Yogendra Sharma. "Reaching a 8,700-meter point is no joke but we are all happy that he is going to return home safe."

His mother Dinkumari Sharma was happy to hear about the safe health of her son. "Three teams made it to the summit on Wednesday but there was no news about him or his team. I took sleeping medicine last night," said Sharma. Arvin begun his journey from his hometown Pokhara in March. On Wednesday, eight western and 10 Nepali Sherpa climbers scaled Everest from the Nepalese side becoming the first ones to scale the mountain this year. The spring mountaineering season begins on March 1 and ends on May 31 when all expedition are required to quit their climb and head to lower heights.
---
Babu spends 21 hours on Top of the World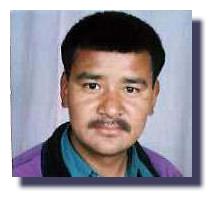 Babu Chiri "Another Record"
By Binaj Gurubacharya
KATHMANDU, May 7 - From novices to expert climbers, they all spend just a few minutes on the top of Mount Everest, gasping for breath while they rejoice their victory atop the mountain.
Not Babu Chhiri Sherpa. The 33-year-old Sherpa guide just set a new record today spending an unprecedented 21 hours on the 8,848 meters high summit of Mt. Everest, the world's tallest mountain.
"Today at 7:30 a.m. he left the summit for South Col after setting a record at the summit," said Shailendra Raj Sharma, chief of the mountaineering division at the ministry of tourism.
No records have been kept for the most time spent atop Everest as of yet. But climbers spend from a few minutes to a maximum of half an hour on the summit where hurricane force winds and blizzard like storm drive climbers to retreat to lower altitude.
Babu and two of his Nepali friends began their journey from the South Col at 8,000 meters on Wednesday night and reached the summit about 10:30 a.m. the next day.
A specially built tent was pitched and Babu was left on the summit alone to wait out to accomplish his record to be the first one to spend the most time on the summit.
Alone on top of the world, Babu sang the Nepali national anthem and hoisted the national flag in the afternoon. "He wants to present the flag and recording of the national anthem to His Majesty the King," said Ang Babu Sherpa of Nomad Expedition who equipped Babu's expedition to Everest. Babu had called on the radio that was dispatched to the capital through a satellite phone.
This morning he finally called it quits and descended towards lower camps where his cheering friends were waiting. The last message said he was on his way to Camp Two.
But the sweet success did not come out without some bitter experiences. The two accompanying Babu to the summit were stuck on the way down who were caught in by hurricane like wind and could not find the way back to camp.
The two sat out in the cold for two hours after already climbing in for 22 hours at a stretch. "They needed someone to bring them help - only everyone were exhausted after the summit push ... finally they came down very cold but very happy," said expedition members in the expedition's Internet website.
During the same time the two were fighting bad weather, radio contact with Babu had broken off with the base camp. He had already been on the summit for seven hours by then. "The expedition was upset while black clouds came over us from the valley and the wind roared mercilessly over our heads," said the message. Fortunately, the base camp crew were able to establish radio contact with Babu. The two sides were operating their walkie talkies on different frequencies. Messages from the mountain quoted Babu as saying he was feeling wonderful after the success.
The Everest region has always been a familiar ground for Babu. Besides growing up in the Solukhumbu area, he had already scaled the mountain seven times prior to the latest success and had been to close to the summit two other times. As an expert mountaineer, he has maintained an excellent climbing resume something for his rival to envy. Not only has he set a record for the longest time spent on Everest summit but has become the first to set up campsite at that altitude. Talk about an ultimate campsite.